Safety Relays with Forced-Guided Contacts
Featured Product from Altech Corp.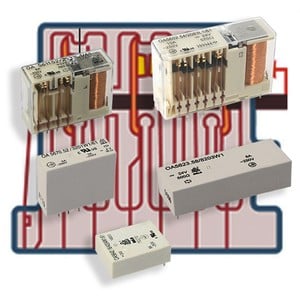 Safety Relays with Forced-Guided Contacts
Relay Contacts
Small as 1x1x0.4 inches, the Altech OA 5642, 5643 and 5644 safety relay features include:
8A Switching Current
6-110V DC Coils
2-4 Output Contacts
Various Contact Materials
Safety relays with forced-guided contacts are the core components for safety devices and are indispensable when designing safety circuits. Safety devices are designed to protect man and machine as demanded in OSHA CFR 1910 Regulations "General Requirements for All Machinery", and which is a mandatory requirement of the European Machinery Directive EMD 2006/42/EC.

Force guidance in a relay means that the contacts in a contact set must be mechanically linked together so that it is impossible for the NO (normally open) and NC (normally closed) contacts to be closed at the same time. The contacts are linked so that no one contact in a relay can change state without changing all the contacts in that relay. There must be a 0.5 mm minimum air gap between the open contacts for the entire service life of the relay, even when a relay part fails to function correctly.