Spring Clamp Terminal Blocks with Push-In Jumpers
Featured Product from Altech Corp.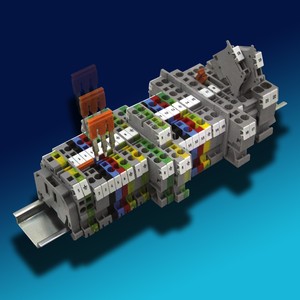 There are many benefits to using the latest Altech CX-Series of spring clamp terminal blocks, the most important being the time it takes for installation. With the use of a tool or narrow screwdriver, push into an insertion space to open a pre-loaded stainless steel spring. Your wire can then be inserted into an opening in the spring leg. By removing the tool, there is a spring force that presses the conductor against a copper tin plated current bar for a highly reliable connection.
These terminal blocks are used with solid or stranded wire and create a very secure connection — unlike screws which can loosen over time or in high-vibration applications. Spring clamp terminal blocks are often designed into vehicles because of their natural resistance to vibration and shock. Under the high-vibration movement of vehicles and aircraft, the spring clamp terminal block maintains a secure hold on the wire long after when a screw type terminal block would have loosened and caused a potential failure.
With the addition of Universal Push-In Jumpers this is a superior terminal block series.
Easy Installation

Versatile and Vibration Proof

Reliable Gas-tight connection

Fail proof, safe connection

NO torque requirements

Maintenance free

Terminals accept wires with/ without ferrules
FEATURES
Extremely Compact Design
CX4 is the most compact in the industry
Push-In technology jumper system
2, 3, 4 5, 6, 7, 8, 10 pole
2 independent jumper channels
Easy breakout of jumper pins for alternate shorting of terminal blocks
Felt tip pen marking option
Center marking tag area
Unique design in plastic housing for easy wire entry
Individually mountable partition plates provide electrical and visual separation
Test Plugs for Test & Measurement needs