Stainless Steel Enclosure with Disconnect
Product Announcement from Altech Corp.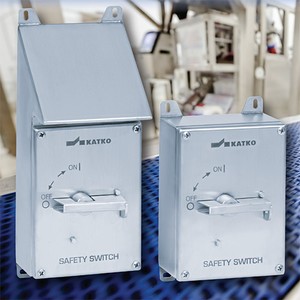 IP66 Stainless Steel (AISI 316) Safety Switch Product Announcement from Altech Corp.
The ALTECH Stainless Steel product line (KER) is designed for use in the Food & Beverage and Mining industries. The UL Type 4x enclosures provide a very high level of protection. These high quality enclosures were specifically designed to withstand chemicals and have as few cavities as possible in order to be easily cleanable.
Altech's new IP66 Stainless Steel (AISI 316 ) Safety Switch enclosures are ideal for hygienic and harsh environments such the food and pharmaceutical industries. They are easy to install and clean, acid proof and pad lockable. They range from 16 - 80 Amps. One version has an angled rain hood design.
FEATURES
Electrical Ratings: 16-125A / 600V AC
UL Type 4X, IP66
Designed for hygienic and heavy environments
Easy to install and to keep clean
Padlockable
Stainless Steel (Grade AISI 316)
Acid proof
Rainhood protection with angled top (RS)
Suitable for use in:
Food & Beverage industries
Mining industry
Hazardous and demanding environments
Altech has a complete line of UL Extended, Direct and Toggle Handle Motor Disconnect Switches with accessories. Plus Disconnect Enclosures in Polycarbonate, Aluminum, Sheet Metal or Stainless Steel.
---