Superior Circuit Breakers
Product Announcement from Altech Corp.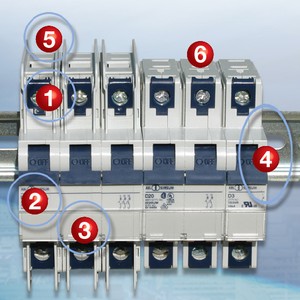 Many features and advantages are included in a complete Line of UL certified UL489 (with current limiting), UL508 and UL1077 DIN Rail Miniature Circuit Protection Devices.
Watch the video here.
1. Hinged terminal cover design allows easy access to terminal screws with a broad range of screwdrivers! The possibility of breaking the housing is minimized even when using a wide shank screw driver.
2. Individual Part Number is shown on each circuit breaker and is legible when installed in the panel.
3. Designated marking area is protected with clear hinged cover.
4. DIN Clip can be easily released when necessary.
5. Flexible replaceable terminal barriers reduce the possibility of breakage if accidentally dropped!
6. Dual connection terminals. box and screw terminals for solid wire, forked cable lug and ring tongue.
The Industry Leader in UL Circuit Breaker Devices
---