Time Saving Push-In Technology Terminal Blocks
Featured Product from Altech Corp.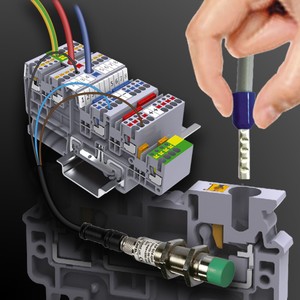 Altech's CP Series. Push-In Terminal Blocks with Universal Push-in Jumper System. Thinnest in the Industry with a Compact 3.5 mm Terminal.
No tools required
State-of-the-art Connection Technology
Stainless Steel Push-In spring
3 Marking Tag Areas (Center, Sides)
Innovative terminal block designs have continued to move forward. Due to the advancements in materials and the needs of specific applications, the possibly tool-less push-in terminal block technology has provided additional benefits to users. This new wiring option allows users to simply push solid wires and stranded wires with ferrules into the terminal block for quick and reliable connectivity. This type of terminal block needs the least human interaction and works well in automated and robotic wiring situations

More OEMs are switching to this established technology not only for its installation speed and safety, but for its reliability and extremely large pull-out force. End-users are incorporating push-in terminal block technology to streamline the installation of interconnecting sensor and control devices in I/O and DCS systems for process and automation control.
Overall, push-in terminals are ideal for many applications with their minimum required insertion force to connect even small wire sizes. These terminal blocks are also suitable to withstand harsh environmental conditions as those found in marine applications and chemical plants, owing to the use of non-ferrous metals used in the connection components.
Pull-out forces for push-in terminal blocks are greater than those of screw or spring type terminal blocks, making them highly reliable for low maintenance and long life applications.
The specially designed clamping mechanism for push-in terminal blocks allows them to be thinner, even with a 600 V capacity. This size reduction allows for 33% more wire density without compromising in voltage stress, pollution degree or surge voltage. A most compact 3.5mm terminal block thickness allows a 14AWG (1.5 sqmm) wire to be connected. application/terminal block examples include sensor and actuator terminal blocks and marshalling terminal blocks.
Altech completes its large line of DIN Rail Terminal blocks with the new CP-Series. It utilizes push-in technology for time-saving, compact and safe wiring solutions.
Features
No tool required for easy connection
Direct connection of solid wires and flexible wires with ferrules
3.5mm wide terminal, thinnest in the industry
Stainless steel push-in spring
Easy pushbutton release with any tool
Different block types for many design option
Universal Push-In jumpering system
Specific Terminal Block Types
Feed-Through Terminal Blocks
Grounding Terminal Blocks
Multi- Level/ Connection Terminal Blocks
Sensor & Actuator Terminal Blocks
Marshalling/ Potential Distribution Terminal Blocks