UL Ground Fault Equipment Protectors
Featured Product from Altech Corp.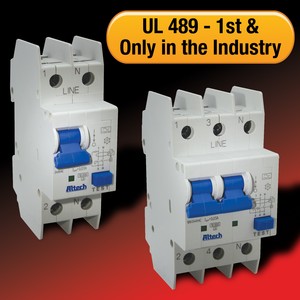 Fault Relay is the 1st in the industry! Since it includes a UL 489 Branch Circuit Protector, in many cases there is no need for upstream circuit protection. It comes in 1+N pole, 2 pole and 2 pole +N configurations at 240V AC, 120/240V AC. It has a rated current of 5 - 40A. It also has a Rated Short Circuit Interrupt Capacity of 10kA and comes in Overload tripping curves B, C and D. The Rated Frequency is 50/60Hz.
All Series available:
GFL Series (5A - 40A)
10kA UL489 Listed Branch Circuit Breaker with Equipment Ground Fault Protection (RCBO)
GF Series
(up to 63A) 480Y/277V AC Ground Fault Sensing and Relaying Device (RCCB)
GFR Series
(5A - 40A) 480Y/277V AC Ground Fault Relay with Overload Protection (RCBO)