Unique Air Ventilation Enclosures
Featured Product from Altech Corp.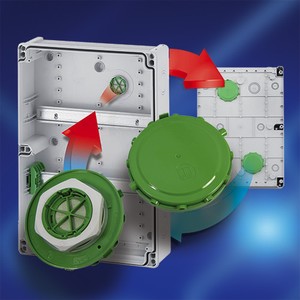 Advantages of Air Ventilation Elements with Enclosures

Prevention of condensate water while preserving the high protection class IP65
High air exchange rate
100% pressure compensation
Foreign object protection
Maintenance-free
The patented Air Ventilation elements avoid condensation while preserving the high protection class IP65. Occurring condensation is transported out of the enclosure immediately via air exchange. These are standard in our AKIII industrial enclosure series.
These Air Ventilation elements are for use in enclosures without vent system. Mounts in M40 knockout. Set of 2. Cat No. 263-440.

The continuous and high air exchange allows the interior air to mix constantly with the environmental air and moves the moisture outward.

Even environments with nearly constant humidity and temperature possess air exchange, since the air on the interior of the enclosure warms due to the fittings. The individual components of the ventilation elements mainly consist of the rotating cover (rear side of box) and the 10µm filter element integrated on the inside of the enclosure.