Unique Enclosure with Patented Air Ventilation
Featured Product from Altech Corp.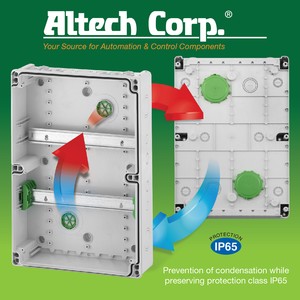 Advantages of Air Ventilation Elements
Prevention of condensate water while preserving the high protection class IP65
High air exchange rate
100% pressure compensation
Foreign object protection
Maintenance-free
The Altech AKIII industrial enclosure has a patented Air Ventilation system which eliminates condensation while preserving the high protection class IP65. Occurring condensation is transported out of the enclosure immediately via air exchange.

The continuous and high air exchange allows the interior air to mix constantly with the environmental air and moves the moisture outward.

Even environments with nearly constant humidity and temperature possess air exchange, since the air on the interior of the enclosure warms due to the fittings. The individual components of the ventilation elements mainly consist of the rotating cover (rear side of box) and the 10µm filter element integrated on the inside of the box.
Wide Range of Features:
Integrated air ventilation
Top/bottom interchangeable flange endwalls
Height-adjustable mounting rail
150 mm rail spacing
Optimized hinged window
Combinable
Multiple installation options
DLG focus test: Ammonia resistance
Indoor and outdoor installation
Free of halogen, PVC and silicone