BeMicro Software Development Kit
Product Announcement from Altera Corporation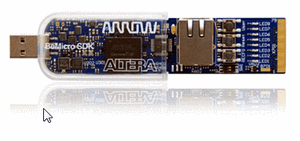 The BeMicro Software Development Kit (SDK) provides a complete FPGA evaluation system in the palm of your hands. The BeMicro SDK's easy-to-use evaluation platform lets you create, compile, run, and debug a software project in just minutes. This low-cost evaluation kit on a USB stick includes a complete lab to get you started designing a custom microprocessor system in an FPGA.
Whether you're new to software design or an experienced pro, see how easy embedded design on an FPGA can be when using software tools you already know.
Ready to run as soon as you plug it in to your PC
Immediately develop code on your FPGA platform
Complete software development suite (Altera Nios® II Embedded Design Suite) including Eclipse-based tools, operating system, and network stack
Suitable for virtually all embedded applications
Built-in demos and tutorials
Key Features:
Altera Cyclone® III FPGA-EP3C16F256C8N
Altera Nios II embedded processor
16 MHz clock oscillator
Three status and eight user LEDs
80-pin edge connector
TCP/IP stack
microSD card and Ethernet interfaces
Temperature sensors
USB powered
Mobile DDR memory interface
See the BeMicro SDK in action. Watch our video to understand the five key reasons why you should put your processor on an FPGA.

Play BeMicro Software Development Kit Video
---