Intro to FPGA Design Using MATLAB & Simulink
Product Announcement from Altera Corporation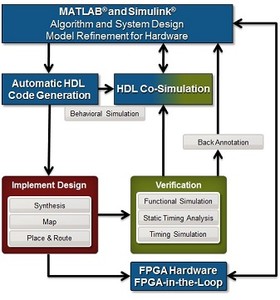 Recorded Webinar:
Learn how many companies are reducing FPGA design cycle time by 33-50% or more by adopting workflows based on MATLAB and Simulink. In this presentation, engineers from MathWorks and Altera demonstrate how MATLAB and Simulink are used to design FPGAs for applications such as signal processing, image processing, communications, and control systems.
Topics covered include:
Introduction to system modeling with MATLAB and Simulink
Fixed-point and floating-point design considerations
Target-independent HDL code generation using Simulink HDL Coder from MathWorks
Altera-specific HDL code generation from Simulink using Altera DSP Builder
Optimization of HDL code generation for performance and area
HDL Verification using Simulink models as test benches
Integration with Altera Quartus II
About the Presenters:
Eric Cigan is in MathWorks technical marketing supporting FPGA design workflows. Prior to joining MathWorks, he held technical marketing roles at MathStar, AccelChip, and Mentor Graphics. Eric earned BS and MS degrees in mechanical engineering from the Massachusetts Institute of Technology.

Jordon Inkeles is the senior product manager for Altera's software and DSP products. He has been with Altera for over 12 years in various product marketing and corporate marketing management roles. Prior to joining Altera, he held marketing and applications engineering roles at Semtech and Xicor.
Product Focus
- Simulink HDL Coder
- Altera DSP Builder
This webinar was recorded on 5 Oct 2011
Duration: 34:44
Get immediate access to this webinar, and other recorded webinars, by completing this form.
---