Simplify Your Industrial Ethernet Designs
Product Announcement from Altera Corporation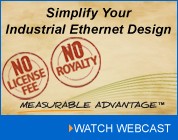 To make it easier to add Industrial Ethernet to your design, Altera and Softing Industrial Automation GmbH provide an out-of-the-box solution with no up-front license fees, no per-unit royalty reporting, and no protracted negotiations.
Beginning in January 2013, simply download an entire protocol including the software stack from Softing. Support for the PROFINET RT and PROFINET IRT protocols will be available in January 2013. Additional protocol IPs will be supported later in 2013.
The protocol intellectual property (IP) and reference designs are hardware tested on both the Industrial Networking Kit (INK) featuring the Altera® Cyclone® IV FPGA or Softing's FPGA RTEM CIII kit.
Three Steps to Design for Multiple Industrial Ethernet Protocols
Download the protocol IP that you would like to use in production.
Evaluate the protocol IP using the Quartus® II software tool and the development kits.
When you are ready to go into production, purchase a low-cost security CPLD for less than $3 each in 5,000+ unit volume through your local Altera sales representative.
You can use the same hardware for all the protocols listed in Figure 1 from PROFINET to Ethernet POWERLINK to Ethernet/IP. You must purchase a security CPLD from Altera to enable any one protocol at a given time.
Watch the webcast or download the white paper for more details.
---