Induction Heating System... for Pipe Bending
Featured Product from Ambrell Induction Heating Solutions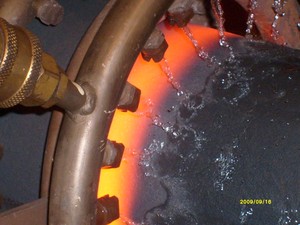 Ambrell, a leading manufacturer of induction heating systems,has sold an EKOHEAT 125 kW/10 kHz induction heating system to a manufacturer of pressure control products for the oil industry. The client has purchased EKOHEAT systems in the past for similar pipe heating applications.

The application involves heating a narrow band around a large steel pipe to temperature (1000°C). Once temperature is achieved, pressure can be applied by a bending arm to bend pipe into the desired shape. Air and water quenches are typically used before and after heating to ensure bending occurs only in the heated zone.

Ambrell has expertise with numerous tube and pipe applications. Curing tube and pipe coatings, pre- and post-weld heating, drill pipe heat treatment, and preheating drill bits for insert brazing are some of the popular induction applications. Induction is often favored because it provides rapid, controllable, non-contact, energy efficient heat.

Ambrell was founded nearly 30 years ago and has sold more than 10,000 systems into over 50 countries. All clients are offered free application testing to ensure their system achieves process objectives. For more information about Ambrell, visit www.ambrell.com or call +1 585-889-9000.