Flexible Metal Hoses
Product Announcement from American BOA, Inc.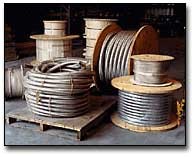 Utilizing "State of the Art" manufacturing techniques, BOA offers superior flexing solutions. Metal hoses are available in a variety of 300 series stainless steels and high nickel alloys, from 3/16" thru 12" nominal inside diameters.
Hydraulically formed and mechanically formed hoses are available in long continuous lengths, prebraided, and on reels. Technical design and development of Metal Hose Assemblies is available from our on site Engineering staff. Products may be helium mass spectrometer leak checked on request, as well as all welds radiographed on premises. Many other special non-destructive testing may be completed. Special cleaning is in accordance with requirements for high purity gas, and cryogenic standards. All welding is completed to qualified ASME procedures.
American BOA offers a wide variety of Flexible Metal Hoses to meet even the most stringent requirements of all Industrial and Commercial Applications. They are the first manufacturer world wide, to comply with the ISO 10380 performance specification for dynamic cycling in excess of 50,000 cycles.
---