Flexible Tubes
Product Announcement from American BOA, Inc.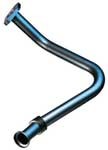 Range of Application: IWK stainless steel flexible tubes are used in the following engine applications:
Exhaust Gas Recirculation (EGR) tubes
Turbocharger oil return lines
Air injection Reaction (AIR) tubes
Functions: The corrugated design of IWK flexible tubes provide the following functions:
Thermal growth rate compensation and reduction of stress at connecting point
Compensation of mating part dimensional variances.
Tube bends can be convoluted or straight and various customer-specified end fittings can be attached.
---