5 Things you need know about Belleville Washers
Featured Product from American Belleville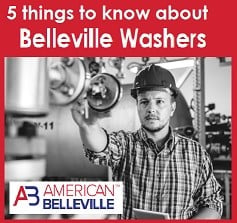 Known by several names, Belleville washers are critical in protecting the integrity of bolted joints. Belleville washers significantly reduce the loosening of fasteners in dynamic and static applications due to vibration, bolt creep, differential thermal expansion/contraction, and embedment relaxation.
We specialize in high-temperature applications and the most corrosive environments where first-rate quality is not just important, but necessary.
High Quality Belleville Spring Washers
Offering a design that allows for very high load capacity, relative to deflection and available space within the application, American Belleville washers can be specified using limitless dimensional configurations and load/deflection ratings. Whether the Belleville washer needs to fit tightly under the head of the bolt, or provide a wide bearing surface across the mating flange, our products offer long fatigue life, predictable and consistent performance and the reliability that may be missing in your current solution.
Consider American Belleville your support system when it comes to conical washers, flange washers, and disc spring needs. Our expert staff will provide you with the best products and advice to help you in every step of your process.

Learn more about the American Belleville difference.