10 WATT High Voltage DC/DC Power Converter
Featured Product from American Power Design, Inc.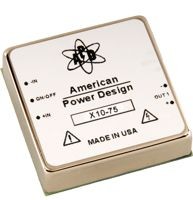 The X10 Series of DC/DC converters accepts wide input ranges of 9-36Vdc, 20-60Vdc, 36-72Vdc. Outputs are isolated to 1 kVdc. In the case of duals, the outputs are completely independent including overload protection. All models will tolerate a short circuit indefinitely. Also included is a PI Network input filter and remote on/off.
FEATURES
Outputs to 1000Vdc
Excellent Line & Load Regulation
Independently Isolated Outputs
Ultra Wide Input Range
1 kVdc Output Isolation
Continuous Short Circuit Protection
Remote On/Off Control