20 Watt High Voltage DC/DC Converters
Featured Product from American Power Design, Inc.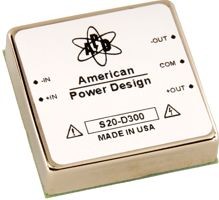 The S20 Series low profile high voltage DC/DC converter offers a 1000 Vdc isolated single or dual high voltage output in a six-sided copper case. Their high power density, wide input, and excellent regulation make them ideally suited for applications that demand a high degree of performance. All models will tolerate a short circuit indefinitely.
FEATURES
* Customer Selects Output Voltage
* Outputs to 1000 Vdc
* High Power Density
* Single and Dual Outputs
* Ultra Wide Input Ranges
* 1000 Vdc Output Isolation
* Continuous Short Circuit Protection
* Economical