5 Watt High Voltage DC/DC Converter
Featured Product from American Power Design, Inc.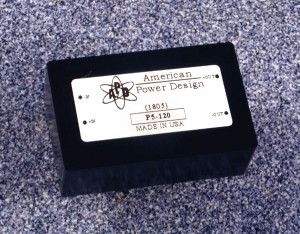 The P5 Series of miniature DC/DC converters offers a 5000 Vdc isolated high voltage output directly proportional to input voltage. They are available in alternate industry standard pinouts. All models will tolerate a short circuit indefinitely. They also include a LC input filter to minimize reflected ripple current.
FEATURES
* Customer Selects Output Voltages
* Proportional Output Voltage
* Efficiency 75%(typ.)
* 5000 Vdc Output Isolation
* Six-Sided Shield (available)
* Continuous Short Circuit Protection
* 60 kHz Switching Frequency