Share the benefits of membership, earn rewards
Service Detail from American Water Works Association (AWWA)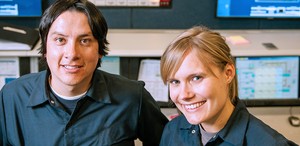 Share the benefits of membership, earn rewards
As an AWWA member, you've gotten a lot out of your involvement with the association:
Experience
Knowledge
Connections
Professional growth
Career advancement opportunities
Continuing education
Now pass on this value and invite a friend or colleague to join. By sharing this membership opportunity with your colleagues, they will find out what you already know: AWWA membership is one of the most valuable investments you can make in yourself, no matter where you are in your career.
How the rewards program works
To be eligible for rewards, make sure your name and AWWA member number are included on the membership applications of everyone you recruit. The rewards start rolling with the very first person you bring in.
Quarterly Recruitment Prizes*
Recruit one or two members
Receive an annual lapel pin
Recruit three to five members
Receive a $25 gift card
Recruit six or more members
Receive a $50 gift card
2014 Grand Prize**
You'll receive an entry into our 2014 Grand Prize drawing for each and every member you recruit. The more you bring in, the greater your chances of winning! Choose from one of the following Grand Prizes:
Complimentary registration and hotel accommodations for ACE15
-OR-
A check for $1,000 to spend however you want!
AWWA is your professional association. The networking and knowledge base we support is strengthened with each new member, adding important and unique viewpoints, keen perspectives and fresh ideas. Please take a moment to invite a colleague or friend to join AWWA. You'll help raise the collective level of expertise within the industry.