AWS Certification
Featured Product from American Welding Society (AWS)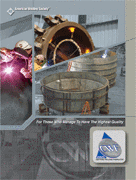 The American Welding Society offers a number of certification programs to assist industry in identifying qualified welding personnel and to provide opportunities for welding professionals to demonstrate their qualifications to the welding industry.
The premier AWS certification program is the Certified Welding Inspector (CWI) program. Established in 1976, over 60,000 welding inspectors have been certified and approximately 25,000 are currently certified. This program has been a major contributor to improved weld quality and reduced costs of inspection. AWS offers additional certification programs for welding supervisors, engineers, radiographic interpreters, educators, and welders.
QuikCheck online is a quick way to verify current AWS Certified Welding Inspector and Certified Welder numbers. Plug in the Certification number and get immediate results.