Ready to Advance your Welding Career?
Featured Product from American Welding Society (AWS)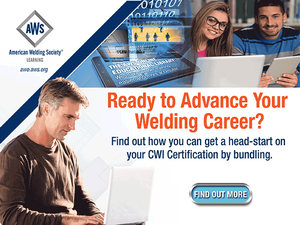 Ready to Advance your Welding Career by Pursuing CWI Certification?
WHY NOT GET A HEAD START?
AWS is pleased to announce a special pilot program* designed to help you save money AND get a head start on your CWI prep. Sign up for the online CWI Pre-Seminar when you register for the live CWI seminar and exam and we'll send all of your CWI exam study materials directly to you, before the seminar, at no extra charge.
This one-of-a-kind offer combines AWS's best resources, and puts you on the path to success. *Some restrictions apply, please read below for details.
Restrictions
This offer valid for purchases after September 14, 2015.
AWS will only ship books to a physical address.
A signature is required to receive all purchases.
We cannot guarantee the delivery of books if the order is placed within 10 business days of CWI seminar start date.
Click here to find out more and Register today!