The New D1.1 Structural Welding Code-Steel
Featured Product from American Welding Society (AWS)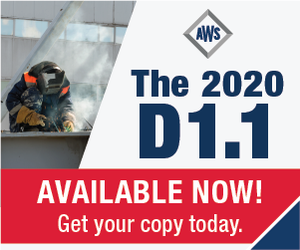 If you work on steel structures made of tubes, plate and structural shapes that are subject to either static or cyclic loading, you rely on the depth of technical information contained in the D1.1 Standard and use it frequently for answers on welding design, procedures, qualifications, fabrication, inspection and repair.
D1.1, is the cornerstone of all welding standards, to improve clarity and understanding of the code's provisions, the D1.1 2020 update includes important changes in both the text and commentary.
Soon, certified welding inspectors will be reviewing projects against this updated Standard. Save valuable resources, including manpower, time and money, and make sure your projects align with its new and content by preordering this standard, then getting it hot off the press!