Ameridrives Universal Joints from 1" to 30"
Product Announcement from Ameridrives Couplings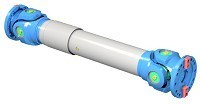 Ameridrives Power Transmission Inc. is a manufacturer of universal joints for industrial, off highway and transportation applications. We can provide universal joints from 1 inch to upwards of 30 inches. We have the capability to custom design and manufacture specialized universal joints and driveshafts, and their connections to your requirements. In addition to universal joints we can provide gear couplings, disc couplings and elastomeric couplings. Ameridrives Power Transmission offers a repair and maintenance service for our universal joints and products and those supplied by other manufacturers.
The Ameridrives Universal Joint
The universal joints manufactured by Ameridrives are made for demanding industrial applications.
Universal joints have several unique features that make them ideal for a variety of applications. Most significant is the ability of the universal joint to operate at high misalignment angles. Operating angles up to 15 degrees are not uncommon.
Another feature of the universal joint is the bearing and seal design that resists lubrication loss and contamination. This makes Ameridrives Universal Joints suitable for applications where severe atmospheric conditions would put other couplings at a distinct disadvantage.
Ameridrives Universal Joint yokes are precisely engineered using the latest design technologies. They are manufactured as a one-piece, closed bearing eye design, assuring the highest degree of strength and minimum distortion under load.
---