Ameriloc Locking Devices
Product Announcement from Ameridrives Couplings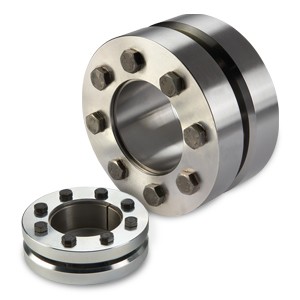 Ameridrives Couplings now offers a full line of Ameriloc internal and external locking devices and shaft couplings. All units are custom-engineered, manufactured, and tested to precise tolerances to meet specific customer requirements and provide years of trouble-free service.
Quality materials and state-of-the-art manufacturing process ensure high reliability. Units eliminate the need for keyways or splines allowing for unlimited shaft positioning. Installation and removal is easy using standard tools. Features include zero backlash, reduced shaft stress, and high contact pressure for greater torque. Tight contact prevents contamination in high dust and moisture environments.
Ameriloc shaft locking devices and couplings are ideally suited for use on wind turbines and test stands. Other industrial applications include printing presses, ski lifts, mining crushers, meat processing, drilling, milling, compressors, pulp & paper, cranes, fans, and steel mills.
All units are pre-assembled, ready to install. Torque range is from 25 to 4303 ft.lbs. (34 to 5,835 kNm). A wide range of standard sizes is available with outer diameters from 12.5 to 53 in. (320 to 1,350 mm), and shaft diameters from 6.5 to 29.5 in. (165 to 750 mm). Additional sizes are available upon request.
More information:
Ameriloc® external locking devicesprovide secure shaft/hub connections
Ameriloc®Internal Locking Devices
Ameriloc Hydraulic Shaft Locking Devices
---