11U Excalibur Shock Mount Rack Case - Ameripack
Product Announcement from Ameripack Corporation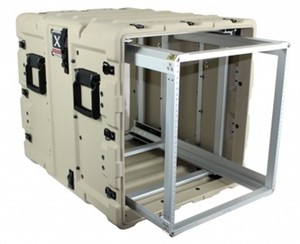 11U Excalibur Shock Mount Rack Case from Ameripack. With its compact 37.5 x 19 x 24 inch outside dimensions, this high quality Military-spec case is designed for toughness. The Excalibur Series of Shock Mount Rack Cases by Ameripack offers top of the line convenience and portability, and is offered with our industry leading lifetime warranty
Quick Links:
Email us your specific application questions...
Worldwide, Ameripack is known for having the most durable, most innovative Rotationally Molded Shipping and Transit Containers. Ameripack now offers an unparalleled value on rotationally molded rack cases from any source. Our expert staff will work with you personally to define, develop and provide the perfect solution to your packing and storage requirements. All Roto-Molded Shipping and Carrying Cases are created with the meticulous specifications of the Airline Transportation Association in mind. Our containers comply with the ATA 300 Category 1 specification for 100 trip applications. These resilient cases also conform to the superior specifications of many Mil-Specifications and Federal standards, including 810F MIL-SPEC.
About Ameripack:
Founded in 1989, Ameripack is a manufacturer/distributor of carrying, shipping, rack-mount, and panel-mount cases. Ameripack has a sales office located in New Jersey, and stocking warehouses across the United States. Ameripack services accounts worldwide in a diverse marketplace including the Military, Medical Diagnostics, Occupational Health & Safety, Oil and Gas Analytical Instrumentation, Avionics and Government Agencies.
View our extesive line of cases including custom designed products:
---