ATA Shipping and Utility Cases from Ameripack
Product Announcement from Ameripack Corporation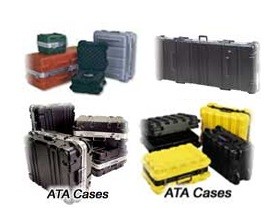 Ameripack's ATA Cases conform to the Air Transport Association's Specification 300 requirements. These ATA Cases not only meet every requirement set forth by the ATA 300 specification guidelines, but all the ATA Shipping Cases exceed these standards.
Quick Links:
These ATA Shipping Cases deliver the maximum strength and durability with minimum weight. The hardware components and custom foam interiors also surpass every category requirement and the hardware is recessed to insure minimum damage during transit. We have a full line of both plastic ATA Shipping Cases and custom fabricated ATA Cases.
Contact us for more info about ATA 300 specifications or additional info.
About Ameripack:
Founded in 1989, Ameripack is a manufacturer/distributor of carrying, shipping, rack-mount, and panel-mount cases. Ameripack has a sales office located in New Jersey, and stocking warehouses across the United States. Ameripack services accounts worldwide in a diverse marketplace including the Military, Medical Diagnostics, Occupational Health & Safety, Oil and Gas Analytical Instrumentation, Avionics and Government Agencies.
View our extesive line of cases including custom designed products:
---