Ameripack - Rack & Shock Racks Cases
Product Announcement from Ameripack Corporation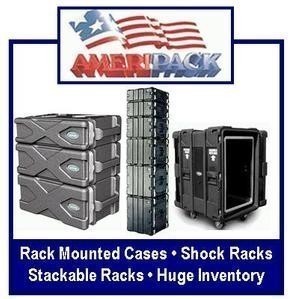 Rack & Shock Racks Cases from Ameripack.
Our Rack Mount Cases are the ultimate in American technology: feature roto-molded tuff shell, front and rear lids, recessed heavy-duty twist latches, molded in handles and more...
Contact us for your questions, any custom requirements or pricing -
We do custom cases!
Use the links below for specific product information, data sheets and quotes...
US Rack Series are the ultimate in American technology. They feature roto-molded tuff shell, front and rear lids, recessed heavy-duty twist latches, molded in handles, shock absorbing rubber feet and the recognizable patented deep Roto-X pattern for solid stacking. The unique molded-in unbendable valance and steel threaded rails with self tapping screws make the US Rack Series rack mounted cases convenient to use and the most durable.
19 inch stacking rack mounted cases are available from 4 space units to 12 space units.
Rail kits are available - 17 inch rail depth with 2 inch lid depths.
US Shock Racks feature a 20" deep rack frame installed in a roto-molded tough shell with an integrally molded valance that eliminates the metal valance on the outside of the case. Also includes rubber gasket on both the front and rear doors for water resistant protection. The integrated molded valance, ergonomic handles, and recessed, heavy-duty twist latches allow these to meet most specifications for ATA cases and military cases.
New elastomeric shock technology has replaced the metal coil system to provide an increased level of protection.. Field-replacing the standard shocks with other available elastomeric shocks can easily accommodate multiple weight bearing requirements. The US Shock Rack series has the recognizable Roto X pattern and are stackable within the series. Perfect for military rack mounted case applications. Sizes range from 4-space to 16-space.
Roll-X Racks feature thicker edges, corners and ribs to increase strength. Thinner flat surfaces allow for reduced weight. Roll-X cases have a depth of 17 3/4" and accommodate 19" rack mountable equipment with 3, 4, 5 and 6 rack space models. Made of polyethylene rotationally molded plastic with 2.5" wheels and industrial pull handle. Roll-X racks interlock and stack with each other. Sizes range from 2U space to 12U space.
19" Stackable Standard Racks are made of ultra high molecular weight polyethylene, are less than half the weight of the old wooden racks, and provide maximum protection. Front and rear removable lids are gasket sealed to protect equipment from moisture and dirt.
Shallow Roto Racks are 10 1/2" deep on are available as 2, 3 and 4 space X-racks. They will accommodate a wider variety of components such as: effect processors (Line 6, Digitech, etc.), signal processors (DBX Comp, Rack Rider eq), power conditioners (Furman, Samson), bass amps (SWR, Galien, Krueger), line mixers, wireless microphone systems (Shure, Sony), CD and cassette players, to name a few, without unplugging them to close the back panel.
We manufacture and distribute equimpment cases, storage cases, rack cases, watertight cases, Pelican cases, military cases, and hundreds of other cases for every possible need and application. We also offer a wide variety of custom foam inserts as well as standard pluck foam and divider systems. Over 6,000 cases in stock!
Ameripack's Extensive Product Line Includes (click products for more infomation and specifications):
Founded in 1989, Ameripack is a manufacturer/distributor of carrying, shipping, rack-mount, and panel-mount cases. Ameripack has a sales office located in New Jersey, and stocking warehouses across the United States. Ameripack services accounts worldwide in a diverse marketplace including the Military, Medical Diagnostics, Occupational Health & Safety, Oil and Gas Analytical Instrumentation, Avionics and Government Agencies.
At Ameripack we are committed to providing our customers with the best case that fits their needs - from roto molded to injection molded to vacuum molded to blow molded. We help our customers find the case that will work for their application. Our Injection molded and rotational molded cases are airtight, watertight, crushproof, dustproof and meet or exceed ATA and military specifications.
---