Ameripack for Military Cases and Footlockers
Product Announcement from Ameripack Corporation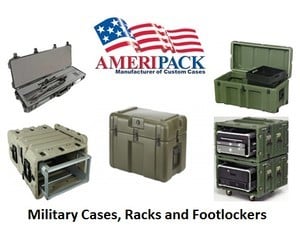 Look to Ameripack for Military Cases and Footlockers
Military cases, trunks and foot lockers are highly functional, very durable, immensely practical... and not all that pretty. While they might seem an odd choice for families or regular consumers to use as luggage or packing, military cases should bear consideration, especially for certain kinds of cargo.
Quick Links:
Ameripack's Extensive Product Line Includes (click products for more infomation and specifications):
This months Specials: click here...
About Ameripack:
Founded in 1989, Ameripack is a manufacturer/distributor of carrying, shipping, rack-mount, and panel-mount cases. Ameripack has a sales office located in New Jersey, and stocking warehouses across the United States. Ameripack services accounts worldwide in a diverse marketplace including the Military, Medical Diagnostics, Occupational Health & Safety, Oil and Gas Analytical Instrumentation, Avionics and Government Agencies. At Ameripack we are committed to providing our customers with the best case that fits their needs - from roto molded to injection molded to vacuum molded to blow molded. We help our customers find the case that will work for their application. Our Injection molded and rotational molded cases are airtight, watertight, crushproof, dustproof and meet or exceed ATA and military specifications.
---