Excalibur Shock Mount Rack Cases
Product Announcement from Ameripack Corporation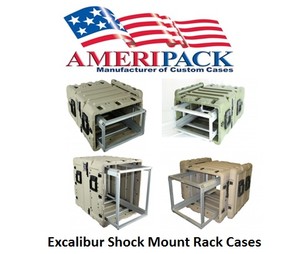 Featured are Ameripack's Excalibur 3U and 4U Shock Mount Rack Cases -sizes offering expanded size solutions for the Excalibur family of rugged transit cases. Excalibur racks offer a low profile sliding removable rack. We have a unique locking mechanism to secure the rack. We use a compounded polyethylene material for color uniformity and strength.
Excalibur Shock Mount Rack Cases:
About Ameripack:
AMERIPACK DONATES $1 TO THE WOUNDED WARIOR PROJECT FOR EVERY CASE PURCHASED
Founded in 1989, Ameripack is a manufacturer/distributor of carrying, shipping, rack-mount, and panel-mount cases. Ameripack has a headquarters is located in New Jersey, and stocking warehouses throughout the United States. Ameripack services accounts worldwide in a diverse marketplace including the Military, Medical Diagnostics, Occupational Health & Safety, Oil and Gas Analytical Instrumentation, Avionics and Government Agencies.
Quick Links to specific products and information and specs:
Quick Links:
---