Plasma and LCD Screen Cases
Product Announcement from Ameripack Corporation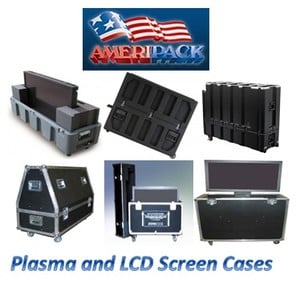 Plasma and LCD Screen Cases from Ameripack.
Our collection of LCD screen cases and plasma screen cases include lift cases and shipping cases ideal for all your falt screen transport needs.
Ameripack manufactures and distributes screen cases that are perfect for the storage and shipping of your screens. Protective cases by Ameripack are designed specifically to protect and transport fragile LCD and plasma screen monitors. We have used the most severe laboratory controlled drops to rigorously test Ameripack cases and the results of our independent testing demonstrate and document superior levels of impact protection.
View our entire selection of LCD screen cases & Plasma screen cases
Email us what you are looking for, we can help you find the best solution...
Electric lift cases and flat screen wedge cases by Ameripack use rotationally molded polyethylene designed for strength and durability in the protection of highly sensitive equipment (including equipment far more sensitive than LCD screens). The insides of Ameripack LCD screen cases are molded specifically to hold and support LCD screens in the desirable upright position. Technology applied in this design includes a universal interior foam design that is easily adjustable, giving all sizes of our LCD and Plasma screen cases superb quality and construction.
About Ameripack:
Founded in 1989, Ameripack is a manufacturer/distributor of carrying, shipping, rack-mount, and panel-mount cases. Ameripack has a sales office located in New Jersey, and stocking warehouses across the United States. Ameripack services accounts worldwide in a diverse marketplace including the Military, Medical Diagnostics, Occupational Health & Safety, Oil and Gas Analytical Instrumentation, Avionics and Government Agencies.
At Ameripack we are committed to providing our customers with the best case that fits their needs - from roto molded to injection molded to vacuum molded to blow molded. We help our customers find the case that will work for their application. Our Injection molded and rotational molded cases are airtight, watertight, crushproof, dustproof and meet or exceed ATA and military specifications.
---