Rack Mounted Cases & Military Cases
Product Announcement from Ameripack Corporation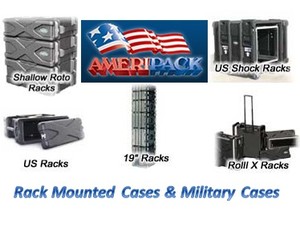 Rack Mounted Cases & Military Cases from Ameripack.
These cases give great protection for sensitive military and photographic equipment as well as other technology components. Please use the links below to view our extensive capabilities in Rack Mounted cases and Shock Racks.
Please feel free to contact us to help you find the right solution - Email us here... or Request a Quote
US Rack Series rack mounted cases feature shells and lids with roto-molding, heavy duty twist latches recessed for safety and durability, handles molded into the casing and rubber feet with shock absorption. Solid stacking is provided in the Roto-X patterning. These cases feature a unique molded-in valance and steel threaded rails with self tapping screws.
US Shock Racks 20" deep rack frame rack mounted cases from Ameripack are fitted into a roto-molded tough shell, as you would expect.
Roll-X Racks promise and deliver on increased strength and durability thanks to thicker edges, corners and ribs. To balance this and reduce weight, these also feature thinner flat surfaces.
19" Stackable Standard Racks are less than half the weight of previous-generation wooden racks thanks to their ultra high molecular weight polyethylene construction that also provides maximum protection.
Shallow Roto Racks are available as 2, 3 and 4 space X-racks, 10 1/2" deep. These rack mounted cases can accommodate a much wider variety of components.
AMERIPACK DONATES $1 TO THE WOUNDED WARIOR PROJECT FOR EVERY CASE PURCHASED
Browse our extensive line of cases:
About Ameripack:
Founded in 1989, Ameripack is a manufacturer/distributor of carrying, shipping, rack-mount, and panel-mount cases. Ameripack has a sales office located in New Jersey, and stocking warehouses across the United States. Ameripack services accounts worldwide in a diverse marketplace including the Military, Medical Diagnostics, Occupational Health & Safety, Oil and Gas Analytical Instrumentation, Avionics and Government Agencies.
At Ameripack we are committed to providing our customers with the best case that fits their needs - from roto molded to injection molded to vacuum molded to blow molded. We help our customers find the case that will work for their application. Our Injection molded and rotational molded cases are airtight, watertight, crushproof, dustproof and meet or exceed ATA and military specifications.
---