Rugged Aluminum Cases from Ameripack
Product Announcement from Ameripack Corporation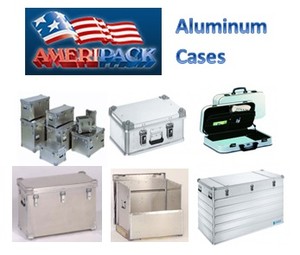 Rugged Aluminum Cases from Ameripack
Ameripack's aluminum cases can be supplied with accessories, painted, with custom foam inserts as well as other special fittings on request. They can be supplied in nearly any size according to your specifications. Aluminum cases are prefect for transporting sensitive instruments and high-grade goods.
Quick Links:
This group of cases also includes a large selection of ATA cases. ATA Cases are designed to conform to the Air Transport Association's Specification 300 requirements. The material and manufacturing methods for these aluminum shipping cases meet or exceed the ATA case specification.
Ameripack is the smart and safe choice.
Quick Links:
AMERIPACK DONATES $1 TO THE WOUNDED WARIOR PROJECT FOR EVERY CASE PURCHASED
Browse our extensive line of cases:
About Ameripack:
Founded in 1989, Ameripack is a manufacturer/distributor of carrying, shipping, rack-mount, and panel-mount cases. Ameripack has a sales office located in New Jersey, and stocking warehouses across the United States. Ameripack services accounts worldwide in a diverse marketplace including the Military, Medical Diagnostics, Occupational Health & Safety, Oil and Gas Analytical Instrumentation, Avionics and Government Agencies.
At Ameripack we are committed to providing our customers with the best case that fits their needs - from roto molded to injection molded to vacuum molded to blow molded. We help our customers find the case that will work for their application. Our Injection molded and rotational molded cases are airtight, watertight, crushproof, dustproof and meet or exceed ATA and military specifications.
---