Standard and Customizable ATA Cases
Product Announcement from Ameripack Corporation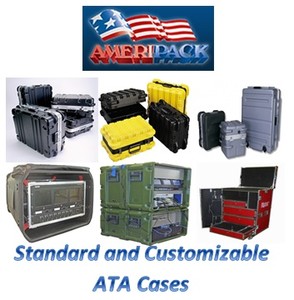 Standard and Customizable ATA Cases from Ameripack.
We can tailor our process to meet the needs of any sensitive equipment requiring specialized flight cases or travel cases. Our ATA cases conform to standards set forth in the Air Transport Association's Specification 300 requirements (ATA 300).
Custom flight cases and ATAT cases from Ameripack are constructed to give the ultimate in protection. As with all Ameripack cases, these are designed for rugged protection under the harshest weather conditions. We pass ATA tests due to the use of heavy duty hardware, specialized tooling and processing giving features like rounded corners and heavy duty valances incorporated into the structure of the case. In addition to their durability, custom ATA cases from Ameripack are noted for their light weight.
Browse our extensive line of cases:
About Ameripack:
Founded in 1989, Ameripack is a manufacturer/distributor of carrying, shipping, rack-mount, and panel-mount cases. Ameripack has a sales office located in New Jersey, and stocking warehouses across the United States. Ameripack services accounts worldwide in a diverse marketplace including the Military, Medical Diagnostics, Occupational Health & Safety, Oil and Gas Analytical Instrumentation, Avionics and Government Agencies.
At Ameripack we are committed to providing our customers with the best case that fits their needs - from roto molded to injection molded to vacuum molded to blow molded. We help our customers find the case that will work for their application. Our Injection molded and rotational molded cases are airtight, watertight, crushproof, dustproof and meet or exceed ATA and military specifications.
---