Labs Achieve ISO/IEC 17025:2017 Accreditation
Service Detail from AMETEK Land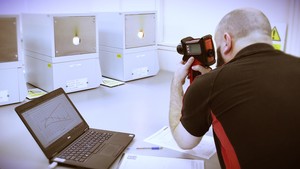 "We are very proud to have achieved ISO/IEC 17025:2017 accreditation for all our laboratories, which is testament to the expertise of our global teams," said Phil Doyle, Customer Service Director at AMETEK Land. "The accreditation has major benefits for customers as it means they can be reassured that their temperature measurement systems will achieve optimal operating performance while meeting the required national and international quality standards. Now, with three laboratories across the globe accredited to the latest ISO/IEC standard, we can offer a truly comprehensive laboratory service to our international customers."

The three AMETEK Land laboratories offer a comprehensive service for the certification of infrared thermometers, thermal imagers, scanners, and blackbody sources. The laboratory certification service verifies the performance accuracy of instruments at a given point by quantifying their errors. These are then reported in a calibration certificate that meets the requirements of ISO/IEC 17025:2017.

The certification provides additional confidence to customers through traceable independent testing and provides errors, which can be applied as corrections to improve the performance of the instrument. Additionally, with repeated calibrations, a history of instrument stability can be built up, providing a useful insight into long term performance. AMETEK Land's ISO 17025 certification laboratories will also certify non-AMETEK Land thermometers/pyrometers within the scope of their approval.

All laboratory facilities are accredited against the ISO/IEC 17025:2017 standard as approved by national accreditation bodies-- in United Kingdom - UKAS (United Kingdom Accreditation Service), United States - ANAB (ANSI-ASQ National Accreditation Board), and India - NABL (National Accreditation Board for Testing and Calibration Laboratories) -- who evaluate technical competence, impartiality, and performance.
AMETEK Land's laboratory staff can offer additional support services to ensure users are maintaining the accuracy of their temperature measurements, including:
Traceability - Determining what is the best method of obtaining traceability for temperature measuring instrumentation; having an independent engineer carry out regular on-site services/checks or returning instruments for certification.
Emissivity Determination - To accurately measure temperature using non-contact instruments you must know the emissivity of the material. The laboratory can measure this parameter from a small sample to assist in the accuracy of measurement or thermometer selection
Re-certification Reminder Service - A written reminder when any item of temperature measuring equipment is due for certification.
AMECare Service Contracts - Designed to ensure instruments are professionally maintained and calibrated to operate at peak factory performance levels throughout their lifetime.
AMETEK Land recommends annual service and calibration adjustment of temperature measurement equipment through its AMECare service, , which provides proactive maintenance for customers' equipment. AMECare service contracts allow customers to optimise the performance and maximise uptime of their temperature measurement instrumentation.

AMETEK Land serves many industries, including metals, glass, HPI, and power. It is recognized worldwide for the accuracy of its non-contact temperature measurement instruments along with its ability to certify its equipment as approved by national accreditation bodies in the United Kingdom, United States, and India.