Continuous, Accurate Monitoring of CO levels
Featured Product from AMETEK Land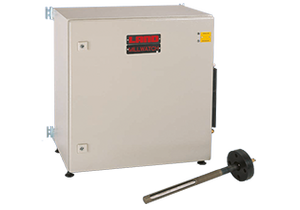 Determining Alarm Levels in Millwatch
AMETEK Land's Millwatchanalyzer is designed to detect the carbon monoxide (CO) given off when the fuel within a coal mill oxidizes rapidly, an indication that spontaneous combustion is beginning. This early detection gives the operator time to take preventative action such as inerting the mill or stopping the fuel supply.
One of the biggest challenges in configuring a Millwatch system is the determination of suitable alarm levels. A carbon monoxide concentration greater than 200 ppm can be seen during mill startup, but in normal operation the CO concentration is usually below 10 ppm. That makes it difficult to select an alarm point which will provide adequate warning of spontaneous combustion without generating an excessive number of nuisance alarms.
Millwatch analyzers offer two independent alarm points, so it is possible to set an alarm level of 300 ppm during startup and 100 ppm in normal operation. These are good starting points, but they should be refined as experience shows the range of CO concentrations which occur in normal operation. One user set an alarm level as low as 50 ppm, but found occasional spikes to 75 ppm which did not indicate a hazardous condition. At that site, the alarm level was increased several times to a final figure of 125 ppm. This avoided nuisance alarms, while providing good sensitivity and response to abnormal operating condition.
To find out more about strengthening plant safety in coal grinding mills and storage silos with carbon monoxide monitoring, read our application note here
AMETEK Land (Land Instruments)
AMETEK Land (Land Instruments) is the world's leading manufacturer of monitors and analysers for industrial infrared non-contact temperature measurement, combustion efficiency and environmental pollutant emissions.
Through our trusted range of leading-edge technologies, we are chosen the world over to deliver the highly accurate measurement solutions that precisely meet every customer's process needs.
With unrivalled applications knowledge, choosing AMETEK Land ensures the highest standards of process safety, process control and product quality are reached.
AMETEK Land is part of the Process & Analytical Instruments Division of AMETEK, Inc., a global supplier of high-end analytical instrumentation.

Find the PRODUCTS you need or explore our solutions for your INDUSTRY now.