Absolute Displacement Transducers LVDT
Featured Product from Ametek Solartron Metrology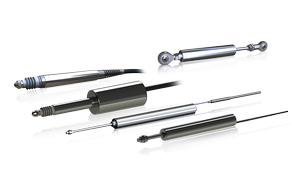 Solartron Metrology is a world leader in the innovation and manufacture of precision digital and analogue displacement sensors and associated instrumentation.
The culmination of Solartron's 50+ years of experience manufacturing LVDT displacement sensors is a deep understanding of the need to match the performance of the sensor precisely to the demands of the application and environment. The cost advantage of matching the best sensor to the requirement is clear, this can only be done with a company that has both an extensive range of sensors, accessories and electronics in conjunction with a philosophy of designing "custom products" to specific requirements.
Solartron precision measurement solutions perform vital tasks in a range of diverse industries including….
Aerospace, pharmaceuticals, medical., power generation, oil and gas, paper making, civil engineering, tunnelling, semiconductor manufacture, mining, glass making, water treatment, chemical processing, steel production…
The list is endless.
Displacement Sensor – S Series
• <0.2% Linearity
• Analogue, DC and 4-20mA versions
• 19 mm diameter stainless steel body
• IP65 and IP67 option
• Excellent measuring range for the body length
• Multiple output options with integrated electronics
• Large bore to core clearance for ease of installation
• Excellent magnetic shielding
• Wide range of signal conditioning and instrumentation
• Absolute Positioning
AC Miniature LVDT
MD
2, 5, 10, 20mm measurement range
Half bridge and LVDT version
Small 6 or 8 mm body diameter
SM
2.6mm measurement range
Rugged construction
Short body length
OP
3, 12, 25mm measurement range
0.25% Linearity FRO
Small 9.5mm body diameter
DC Miniature – DFg Series
2, 5, 10mm measurement range
Infinite resolution
DC/DC LVDT sensor
G-Type
2, 5, 10 and 20 mm measurement range
DC Unipolar, Bipolar and 4-20 mA output
Excellent repeatability: <0.15 µm
Linearity 0.2% FSO
Precision ball bearings
Large selection of probe tips
3D drawings available
Click Here to see Absolute Displacement Transducers LVDT in the Interactive Catalogue.