Bluetooth® Wireless Interface Module (WIM)
Featured Product from Ametek Solartron Metrology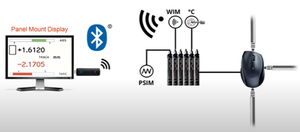 The Wireless Interface Module (WIM) provides a method of connecting controllers to the Orbit® network where the controller itself runs the network. The interface module simply translates and retransmits the Orbit® commands between the Network and the Controller.
The interface module allows communication between any PC with a Bluetooth® connection and the Orbit® sensor network. It is possible to connect up to 150 sensors to the WIM. It can take up to 25 static readings per second for up to 8 modules and is the best way to optimize readings using the read burst command.
The communication range is a minimum of 10 meters with a Class 1 Bluetooth® device. A Power Supply Input Module (PSIM) is needed to ensure that the WIM receives 5Vdc for operation, with one PSIM powering 1 WIM and up to 31 Orbit® Modules.
The module has applications in a variety of industries, including electronics, aerospace and automotive. Manufacturers now can get readings from their Orbit® sensor networks without needing to physically connect their PC, providing more versatile and user-friendly solutions.
Click Here to see the Wireless Interface Module (WIM) in the Interactive Catalog.