Feather Touch Pneumatic Gauging Probe - DT/P
Featured Product from Ametek Solartron Metrology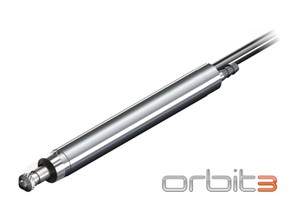 Feather Touch transducers have been designed especially to gauge or measure delicate surfaces such as car windscreens, pharmaceutical bottles, electro-mechanical components and plastic parts. Where as a traditional transducer exerts a tip force of approximately 0.7 N, the Feather Touch exerts a mere 0.18 N when used in the horizontal position. This reduction is achieved by replacing the gaiter with a close tolerance gland. Despite the low volume of air flow the bearing is constantly purged, avoiding the build up of dust.
DT - Feather Touch - Spring and Pneumatic
Low tip force as low as 0.18 N (options available)
2, 5, 10, 20 & 30 mm Measuring Ranges
Full range of tips available
Pneumatic or Spring actuation
IP50 Sealing
Excellent side load capability
Click Here to see the Feather Touch Pneumatic Gauging Probe - DT/P on the Solartron Metrology website.