High Precision Measurement of Rugged Equipment
Featured Product from Ametek Solartron Metrology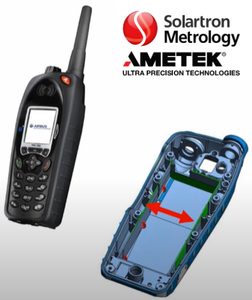 A Tactics Communication Tool (TCT) is a rugged piece of communication equipment used in military and aerospace exercises. The exterior casing is built of highly rugged materials that must also be precisely built.
The rear cover of the TCT has several dimensions that must be gauged to ensure proper fit and finish. However, standard gauging instruments, such as contact probes, could not easily reach there.
The French OEM JLAM used the Solartron Metrology Block Gauges to check key dimensions of the Rear Cover and utilized the Solartron SI7500 readout for dimensional calculation. The results were output to a PLC.
The Block Gauges were chosen for their ability to check more awkward measurements, as well as adjust to different mechanical positions and spring forces. They also have excellent repeatability in an industrial environment.
The Solartron Orbit® 3 Digital Measurement System, in conjunction with Solartron's wide range of transducers, including both contact (gauging probes) and non-contact linear measuring transducers, specialist transducers and third party interfaces, provides a limitless set of measuring system solutions, with numerous different interfaces to computers and PLC's, making Orbit® 3 completely flexible.