Miniature Single Leaf Flexure – DUSM
Featured Product from Ametek Solartron Metrology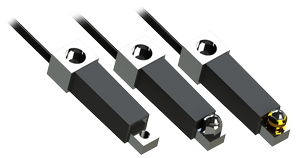 The gauge body mounting to the fixture is accomplished using a single M2.5 screw. Contact tip mounting is attached by using either the integral M3 locking thread insert, primarily intended for use with length extensions, OEM's fixed length contact tips or with Solartron's tip adapter, which when applied with Solartron's dedicated tip allows for 1 mm of height adjustment. OEM tips may be fitted to either option, but it is advised that the height be limited to a maximum of 6 mm above the gauge top surface, to avoid significantly prejudicing gauge life and repeatability. Mid adjustment range is the reference point for the calibration using the standard tip.
Length extensions may be applied to this style of gauge but should be used with care. A maximum length of 12 mm, between tip and mounting thread, is advised, but this does depend on other variables such as tip height approach angle and measurement deflection – extremes of these conditions will significantly reduce the gauge life and severely degrade the repeatability. To enable direct reading of the gauge using extensions, the use of a software multiplier will be necessary. However, as the reference dimension for the gauge is 18 mm by using a 12 mm extension, a range of 833 microns is achieved but a reading of only 500 microns is observed.
DUSM - Mini Flexure
Accuracy better than 1 µm
Excellent Repeatability <0.5 µm
Measurement range 0.5 mm
IP68 Sealing
Multiple Tip Configurations
Robust design in compact package
Click Here to see the DUSM – Miniature Single Leaf Flexure on the Solartron Metrology Website.