Orbit® 3 Digital Probes with In-Line Connector
Featured Product from Ametek Solartron Metrology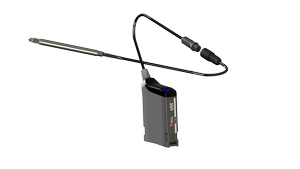 Solartron Metrology, the world leader in Digital Gauging Probe innovation introduces an accurate and innovative measuring solution whereby a Digital Probe and Electronics are connected with an In-Line Connector. The In-Line Connector can be mounted close to the probe so that the probe can be replaced without having to unthread/thread the cable. It can also be mounted on the Probe Interface Electronics (PIE) module.
Solartron Metrology uses a dedicated Digital Probe which has much better screening for magnetic and electrical immunity. The In-Line Connector feature allows flexibility while maintaining a very high resolution, excellent linearity and a high data speed of the Orbit® 3 system. Probes can be replaced without any reprogramming of the controlling software.
Small diameter of the connector allows easier threading through a machine for replacement. It has a lightweight, corrosion resistant glass reinforced thermoplastic body, with IP67 protection against dust and water ingress.
Click Here to see Orbit® Digital Probes with In-Line Connector on the Solartron Metrology Website.
Features
Same high performance as Standard Digital probe.
In Line Connector makes installation easy as the Probe can be separated from the electronics
Small Diameter Connector for ease of installation
Connector has IP67 rating