Orbit® ACS SI400 Automation and Control System
Featured Product from Ametek Solartron Metrology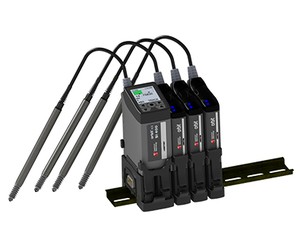 Features
Integral Readout with color LCD Display and keypad.
Set tolerance and process limits via keypad.
Detachable probe plug on housing for easy installation. (Gauging probes, Block Gauges & Flexures only)
Replace probe with no calibration or reprogramming.
Modbus output (RTU or ASCII) over RS485 or RS232.
Programmable discrete I/O (4 inputs, 3 outputs)
Track, Peak, and Max-Min Modes for each channel.
Available with all Solartron Gauging probes, Displacement sensors, Orbit® LT, and Orbit® LTH.
24V DC Power Supply.
Click Here to see the Orbit® ACS SI400 on the Solartron Metrology Website.