SI 5500 - Digital Readout
Featured Product from Ametek Solartron Metrology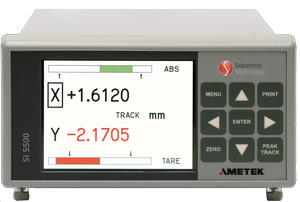 Specially designed to work with Solartron Orbit® Digital Transducers, the SI5500 provides the user with solutions for small systems. The readout has intuitive menu systems for ease of set up and can be programmed to display readings, alarms, limits and other metrology functions. With discrete I/O and serial interfaces these readouts provide a neat solution to interface to other systems like PLC's
The SI5500 features an intuitive, menu driven multiple channel display which can be programmed to display readings, set Limits/Alarms, Peak Hold, Track or act as a Data Logger. The screen can be set-up as single channel or multiple channel configurations. Users can construct mathematical formulae and Algebraic Equations to get wide variety of results for their gauging applications.
Features
Intuitive menu
Accepts up to 31 Orbit® 3 Sensors
Auto color change for in/out limit range
Color display LCD Screen
User selectable bar panel or text display
Gauging Mode
Peak hold facility
Data logging facility
RS232 Connectivity
0.01 µm display resolution
Available with Digital Probes, Linear Encoders and Encoder Input modules
Discrete I/O
Click Here to see the SI 5500 – Digital Readout in the Interactive Catalog.