Single Leaf Flexure – DUS/0.5/S
Featured Product from Ametek Solartron Metrology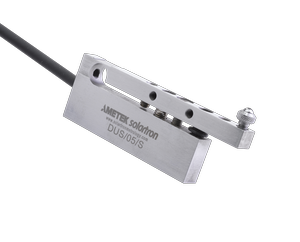 Very high resolution and gauge R&R at <0.1 μm maintained without degradation over millions of measuring cycles is the hallmark of Solartron digital gauging flexures.
Digital flexures are the ideal solution for high precision/ high volume post process or in process gauging applications where cycle time is short and high throughput would shorten the life of a conventional pencil probe.
There are no sliding parts to wear out or to cause friction within the frame or sensor which makes Solartron flexures virtually free from hysteresis.
Flexures can be mounted such that there is little or no stress through the gauge centre line and enabling precision profiling of moving material, such as sheet material or rotating shafts, brake discs etc. The option to take readings of < 0.1 μm at speeds of up to 3.906 readings per second per flexure into the Orbit® network provides very detailed profiling.
The flexure gauge has forward and reverse spring action with a pneumatically actuated version available for automatic measurements. The digital flexure gauge is fully compatible with Orbit® and is very linear over its full measurement range.
Features
Flexible measuring element
Configurable Measurement range
Robust design
Long life 20 million cycles typ.
Excellent Repeatability:< 0.15µm
Excellent Resolution:< 0.1µm
IP 65 Protected
Click Here to see the DUS/0.5/S on the Solartron Metrology website.