Versitron® Rockwell Hardness Testing System
Product Announcement from Ametek Test & Calibration Instruments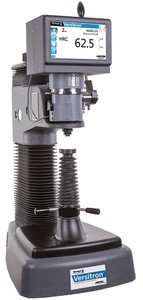 With a test performance of only 4 seconds, the Versitron Rockwell hardness testing system has the fastest test cycle of any hardness tester, even on manually activated machines.

Large specimens can be clamped in seconds prior to applying the load without supports or tools and without affecting test results. In addition, the system is extremely user friendly, requiring little operator training and having few service or maintenance requirements.

A full colour icon driven touch screen display facilitates easy intuitive navigation. The display is dirt and oil resistant and is easy to clean.

Commonly found test conditions, such as vibration or a dirty test environment, test samples with oily residues, or thin test pieces will sometimes cause test error due to deflection during the load. The Versitron features a unique indenter system that eliminates or substantially reduces those errors.

The Top Loading / Test Surface Referencing test process imparts to the Versitron its unique part clamping ability. Unlike other testers which offer clamping as an afterthought add on, the Versitron's clamping ability is in inherent part of the tester and provides users with the ability to clamp and hold parts in place prior to testing with up to 240 ft/lbs of clamping force.

Immediately surrounding this hardness tester's indenter is an indenter shroud whose purpose is to sense the position of the indenter relative to the test surface when the preload has been applied. Should the test specimen deflect under major load, the shroud travels with the test surface to compensate by maintaining the precise reference position with the test surface, so the test results remain accurate.

Modular test heads can be easily installed so that testers can be quickly interchanged between regular and superficial ranges or be upgraded by adding new test heads as requirements change.
---