BigAmp Inrush Current Limiters
Product Announcement from Ametherm, Inc.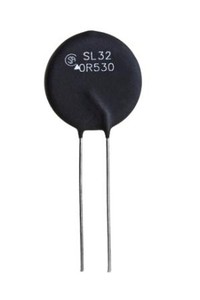 The bigAMP Inrush Current Limiter absorbs high amounts of inrush current when electrical equipment is turned on by offering a high resistance to current and quickly decreasing in resistance once steady state current begins to flow through the thermistor.

In a switching power supply, the instantaneous surge energy is caused by the large input filter capacitors and AC input voltage. During the absorption of energy, the initial high resistance of the thermistor drops within milliseconds to a negligible resistance in preparation of allowing high levels steady state current to flow with a minimal loss of power through the circuit.

The bigAMP Inrush Current Limiter will absorb up to 260 joules of input energy and carry 36 amperes of steady state current.
| D | T | Lead Diameter | S | L | |
| --- | --- | --- | --- | --- | --- |
| 32 mm Max | 6.0 mm Max | 1.0 mm Nom | 7.9 mm Nom | 38.0 mm Min | Straight Leads |
| D | T | Lead Diameter | S | L | |
| --- | --- | --- | --- | --- | --- |
| 32 mm Max | 6.0 mm Max | 1.0 mm Nom | 7.9 mm Nom | 38.0 mm Min | Straight Leads |
Part
R@
25°c
(ohms)
Max
SSI
(A)
Max
Energy (j)
Actual
Failure (j)
R @
Max SSI(A)
R @50%
Max SSI(A)
DC
(s)
TC
(s)
Mat
SL32 0R230
0.25
30
100
200
0.008
0.018
45.4
194
A
SL32 0R530
0.5
30
150
295
0.011
0.058
45.4
194
B
SL32 OR536
0.5
36
250
495
0.009
0.058
45.4
194
B
SL32 1R030
0.2
30
160
270
0.014
0.048
45.4
245
C
SL32 1R036
1.0
36
160
270
0.009
0.028
45.4
245
C
SL32 2R023
2.0
23
250
495
0.022
0.068
80
194
G
SL32 2R025
2.0
25
300
548
0.024
0.055
45.4
194
G
SL32 4R023
4.0
23
200
448
0.02
0.065
65.4
208
G
SL32 5R020
5.0
20
200
300
0.034
0.082
45.4
194
H
SL32 10015
10.0
15
265
220
0.048
0.108
45.4
232
I
Part
R@
25°c
(ohms)
Max
SSI
(A)
Max
Energy (j)
Actual
Failure (j)
R @
Max SSI(A)
R @50%
Max SSI(A)
DC
(s)
TC
(s)
Mat
SL32 0R230
0.25
30
100
200
0.008
0.018
45.4
194
A
SL32 0R530
0.5
30
150
295
0.011
0.058
45.4
194
B
SL32 OR536
0.5
36
250
495
0.009
0.058
45.4
194
B
SL32 1R030
0.2
30
160
270
0.014
0.048
45.4
245
C
SL32 1R036
1.0
36
160
270
0.009
0.028
45.4
245
C
SL32 2R023
2.0
23
250
495
0.022
0.068
80
194
G
SL32 2R025
2.0
25
300
548
0.024
0.055
45.4
194
G
SL32 4R023
4.0
23
200
448
0.02
0.065
65.4
208
G
SL32 5R020
5.0
20
200
300
0.034
0.082
45.4
194
H
SL32 10015
10.0
15
265
220
0.048
0.108
45.4
232
I
---