Feed-Through Terminal Blocks
Product Announcement from Amphenol PCD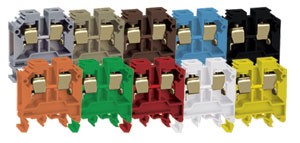 Feed-through terminal blocks are available in nine sizes covering the wire range AWG24 - 4/0.
Universal mounting provisions allow the blocks to be utilized with all three standard mounting rails indicated in the accompanying table. A protective well in the center of the block provides access to a tapped hole in the current bar, facilitating bus bar or test socket connections.
Electrical characteristics and ratings, as well as recommendations covering the broad range of accessories utilized with these blocks, are also indicated in the accompanying tables.
Standard Color: Gray
Alternate colors available as indicated below:
Beige (BG); Brown (BR); Blue (BU); Black (BK); Orange (F); Green (G); Red (R); White (W); Yellow (Y)
Insulation Material: Polyamide
Accessory and Marking Details: see links on website
---