Hydroquinone Monomethyl Ether (MEHQ)
Product Announcement from Amsyn, Inc.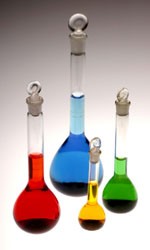 Hydroquinone Monomethylether is used as an inhibitor in vinyl and acrylic monomers, especially for clear products and as an antioxidant. It is used as a stabilizer to inhibit peroxide formation in ethers, chlorinated hydrocarbons and ethyl cellulose. It is also used as an intermediate to manufacture other stabilizers, dyes, pharmaceuticals and plasticizers.
Alemark Chemicals brings 30 years of experience to the area of specialty chemicals distribution. We work closely with proven, reliable and top quality overseas manufacturers interested in long term positions in the North American market.
Typically under formal agency agreement, Alemark provides complete distribution and marketing services to our domestic customers, including maintenance of local stock points to meet delivery demands on a "next-day basis."
In recent years, Alemark has expanded our inventory positions in order to better serve our LTL and 'less than pallet' customers. We have created a reliable low cost logistical bridge between inexpensive off shore suppliers and domestic customers with even the most modest size demands.
Alemark facilitates open discourse on quality, supply planning, and general commercial matters between our customers and suppliers. Our objective is to encourage the kind of open business communication essential for chemical companies to successfully compete in today's demanding markets.
---