Avicel Microcrystalline Cellulose
Product Announcement from Miles Scientific (Analtech)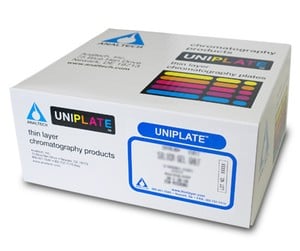 Avicel 250 um 20x20cm (25 plates/box)
These plates are coated with AVICEL microcrystalline cellulose manufactured by the American Viscose division of FMC Corp. The adsorbent consists of regenerated alpha cellulose particles of nearly spherical shape and 50 micron mean diameter.
Analtech UNIPLATES have been used for over 39 years in far ranging areas of testing and research.
Since 1961 Analtech has been manufacturing quality thin layer chromatography plates, providing friendly and expert technical assistance and helping customers solve real problems with real solutions. In fact thin layer chromatography is our sole focus. We carry an extensive line of over 500 formats of plates, as well as a wide range of accessories and lab supplies. Lab managers, purchasers and educators alike have come to know Analtech as the reasonably priced, responsive experts in thin layer chromatography.
---