Cyclograph Deluxe Centrifuge Chromotography Device
Product Announcement from Miles Scientific (Analtech)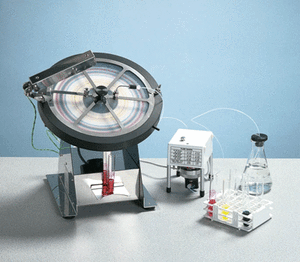 The CycloGraph system is a centrifugally accelerated device for performing preparative thin layer radial separations:
The separations occur quickly (within 20 minutes) with no need for scraping separated bands as with traditional Thin Layer Chromatography.
Principle of Operation: The compound to be separated is applied as a solution inside the adsorbent ring of the pre-cast Rotor by way of a solvent pump or hand held syringe.
The chosen solvent mixture is then pumped (at an appropriate speed) through the adsorbent layer effectively separating the individual components as a result of their different affinities for the layer and solvent mixture. As the individual rings reach the outer rim of the Rotor they are spun off the edge of the glass and collected in the special circular trough. The angle of the trough allows the eluent to collect at the bottom and drop out the collection port.
Key Features of the Cyclograph:
Variable speed control (100-1400RPM)
Integrated 4 watt UV lamp for hands-free viewing of separations
ON/OFF switches for motor and UV lamp Adjustable plane angle setting (0-45 degrees)
Solvent pump with associated ON/OFF pump control switch
Ultra quiet and accurate low flow solvent pump (0-15ml/min) Compatible with all common chromatography solvents including acetic acid
Deluxe System Includes:
Cyclograph instrument
Solvent pump with tubing
Speed Monitor (CAT# 87-43)
Rotor Desiccator/Storage Chamber (CAT# 50-05)
Set of 4 Silica Gel Rotors (2, 4, 6, 8 mm)
Vial of Rotor Test Dye (CAT# 30-05)
Instruction manual
One year warranty
Video: Click Here to see Analtech's website for Cyclograph Deluxe Centrifugal Chromotography Device video.
Founded in 1961, Analtech, Inc is the only US based manfacturer of Thin Layer Chromatography Plates. The company has expanded its offerings to include HPLC columns, SPE cartridges and other chromatography related products. With a network of distributors in more than 40 countries and six continents, Analtech serves a global community in food safety, forensic science, pharmaceutical development, environmental testing, industry and agriculture.
---